Hockey Fights Cancer Game
---
---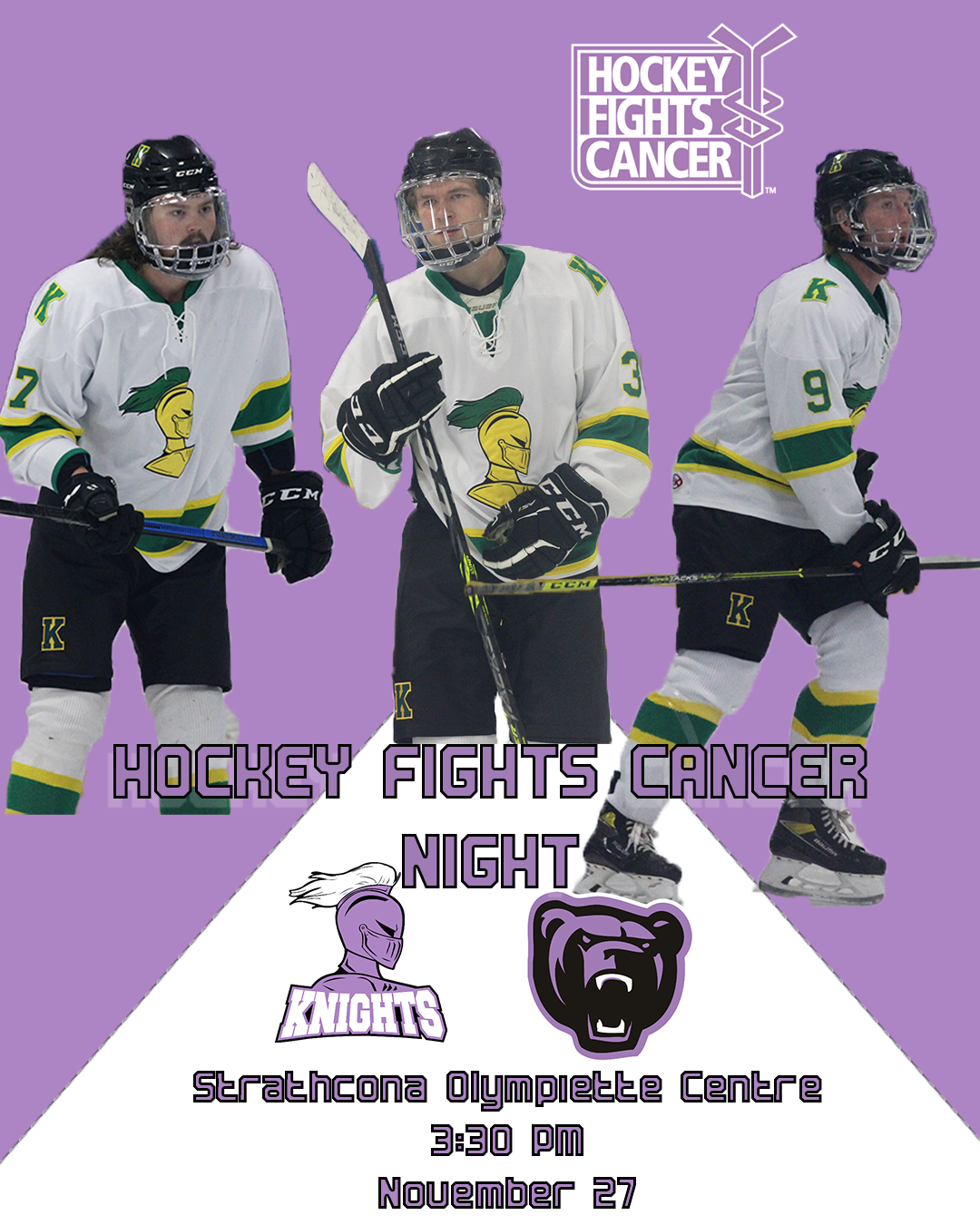 ---
The Strathcona Bruins are excited to announce that on Sunday November 27th the organization will hold its
Puck You Cancer game against the Sherwood Park Knights in our inaugural Hockey Fights Cancer Night on
November 27th at 3:30pm at SOC Arena.

Founded in 1998 by the NHL and NHL Players' Association, Hockey Fights Cancer unites the hockey community
in support of cancer patients and their families. November is Hockey Fights Cancer Month across the NHL and
other hockey leagues. This game will be the first time the Bruins and Knights participate in this program.
Understanding that cancer has no off-season and that many living with cancer have faced more adversity
during the coronavirus pandemic, the Strathcona Bruins and Sherwood Park Knights shares in the NHL's and
other leagues' commitment to support Hockey Fights Cancer fundraising and awareness nights.
As part of this special game night, the Bruins and Knights will be wearing Hockey Fights Cancer-themed
jerseys, have lavender hockey tape on their sticks and special Hockey Fights Cancer helmet stickers. There will
be silent auction items and commemorative PUCK CANCER pucks for sale along with hats and "I Fight For"
signs.

Fans can get involved by visiting the Bruins and Knights Donation Page Strathcona Bruins Vs. Sherwood
Park Knights HFC Fundraiser - Fundraising for Canadian Cancer Society Donation Link
Please donate today and plan on attending this great event planned for November 27th 3:30 PM at SOC
Arena.
Donations raised will support the Canadian Cancer Society.
About the Canadian Cancer Society
The Canadian Cancer Society (CCS) is the only national charity that supports Canadians with all cancers in
communities across the country. No other organization does what we do; we are the voice for Canadians who care
about cancer. We fund ground-breaking research, provide a support system for all those affected by cancer and
shape health policies to prevent cancer and support those living with the disease. Help us make a difference.
Call 1-888-939-3333 or visit cancer.ca today.