12 Knights of Christmas Raffle
---
---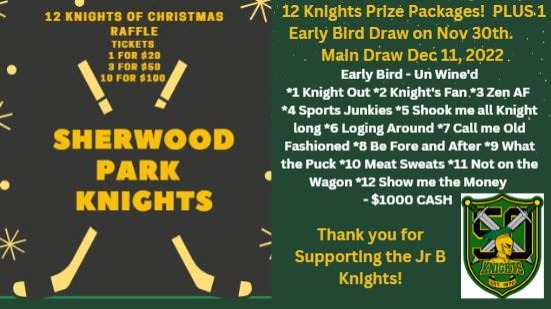 ---
On behalf of the Sherwood Park Junior B Knights we would like to invite you to support the team through our 4th annual 12 Knights of Christmas raffle. Hockey is a sport that demands teamwork, builds self-esteem and promotes leadership while helping to shape young people into productive members of our community. The team cannot exist without your generous support.
The Sherwood Park Junior B Knights Hockey Club main fundraising event is this "12 Knights of Christmas" raffle, with 12 draws with approx. total value of $7500 in prizes. Ticket sales help with the costs for team equipment, trainer fees, referee fees and ice rentals.
The Junior B Knights have been a part of our community for the last 50 years, providing young men aged 18-21 an opportunity to continue playing a game they are passionate about while pursuing an education or starting their careers. It is often challenging for these players to meet the financial commitments required to play. The team is made up of local players who choose to settle and work in our community. They also give back to the community during the hockey season participating in local events, assisting on-ice with minor hockey teams, and volunteering.
We thank you in advance for your support through ticket sales. Good Luck!
Purchase your raffle tickets here!
Ticket Sales End: Sunday, December 11, 2022 at 9:00pm
Early Bird Draw Date: Wednesday, November 30, 2022
Draw Date: December 11, 2022 - Between 2nd and 3rd period of the Knights Home Game
Draw Locations: Sherwood Park Randy Rosen Arena